There are certain things in life that I prefer be non-identical. Like people. Identical twins freak me out. Take, for instance, my cousins, Jan and Jean. Their names are the only distinguishing feature that differentiate the two. And only by one vowel, at that! Same hair, same eyes, same stature, same mannerisms; they might as well be the slanty-eyed version of Sweet Valley High. And while I'm sure there are people who can tell them apart, I am not one of those people. Which proved to be quite unfortunate for me at Jean's wedding. Or Jan's. I'm still not entirely sure whose wedding I attended. What I
do
know is that hugging the bride-to-be and telling her that she'll make a beautiful matron of honor at her sister's wedding is
not
a good thing. In my defense, she (as in the bride, whichever one
she
was) was wearing a baby blue satin dress. Which, at any normal sappy wedding would scream "Can-you-believe -the-ugly-lengths-my-sister-will go-to-to-make-herself-look-better -than me-
Bridesmaid's
-dress." Unless, of course, you're at Jean's/Jan's nouveau wedding, where the bride wears blue and her matron-of-honor identical twin sister wears white. In any case, Jean/Jan wasn't very happy with me. It was a little difficult to backpedal once she turned to the tux-clad man on her right and introduced him pointedly as "Brian... you know, as in my husband-to-be?" Dislodging the Sasquatch foot from my mouth, I managed to flash a weak smile before I made a beeline for the open bar.
Conversely, there are certain things in life that I
prefer
be identical. Like socks.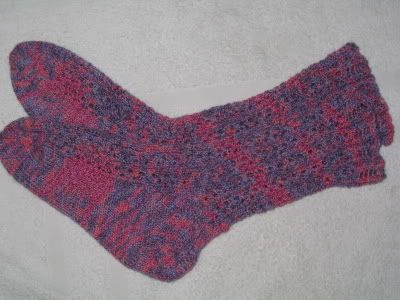 Why I seem incapable of knitting a pair of truly identical twins, I cannot, for the life of me, understand. Clearly, taking 2 seconds to jot down the number of pattern repeats in the first leg and instep so as to be able to replicate it in the second leg and instep would make entirely too much sense. As a result, the finally completed Go-With-the-Flow-Jan is about 1/2" shorter than Jean.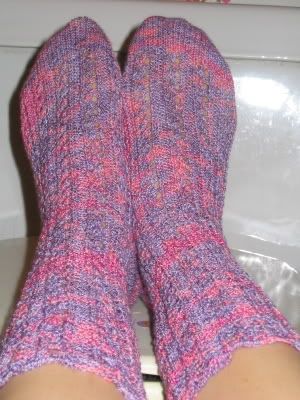 Which, were it true in real life, totally might have saved me at the wedding, but that's beside the point. And, as I am definitely in the crapper with Jan and/or Jean in real life, I found it only appropriate to model these would-be-twins likewise.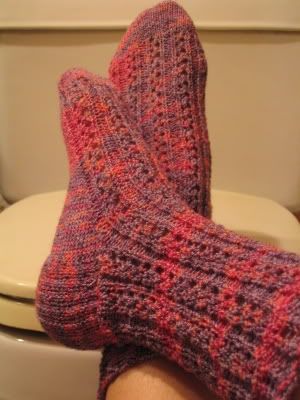 On the upside, I learned a new technique for picking up heel stitches the
pretty
way from
Grumperina's
tutorial. Ah, very pretty, indeed! So easy, yet so understatedly elegant.
As I recall, I later received a rather curt thank-you note from Jan/Jean signed, "Sincerely yours." Ouch. The sad irony is that while I can still recall the "Sincerely yours," I cannot, for the life of me, remember whether it was signed by Jan or Jean!