The Mercenary is coming to a bathroom near you.
Some of you may recall my baby sis, The Mercenary, aka the printmaking BFA artsy-fartsy girl. Very talented, very artsy. And oh-so-very fartsy.
I pondered whether this post would embarass the heck out of her if she ever caught wind of it. (Be glad it's not vice-versa with you catching
her
wind!) She may get flustered momentarily, but she's the first to admit that she's got stomach issues. Chalk it up to IBS, a weak stomach or just plain bad luck, but when you've gotta go, you've gotta go, and boy, does the girl ever go.
Call us cheap, but we don't bother taking her out for extravagant celebration meals anymore. She knows as well as we do that her gift will wind up down the tubes within minutes of consumption. She set a new record this past birthday, when she turned 21. We'd barely touched our entrees after finishing appetizers when she disappeared to the bathroom for a full half hour. My MIL, a pretty straight-laced, serious woman, asked whether we should send a search and rescue team after her. Don't get me wrong; most 21 year olds
do
spend the better part of their birthday evening in the bathroom. But at least they can justify their toilet time with the likes of 2 margaritas too many or a keg party. Imagine if it were a cheese quesadilla that did you in.
Now, I can't really talk, because much as I love Mexican, it does me in pretty quick, too. But for The Mercenary, something as innocuous as grilled chicken breast with plain rice will send her sprinting with a can of Lysol. Lysol is not normally her weapon of choice, though. Something very unappealing about the lingering aroma of evergreen manure. In a pinch, she'll use the courtesy flush and light-a-match method. But she brought us into the millenium last Christmas by stuffing our stockings with a new high-tech Japanese product called Nonshu. (I imagine that the Japanese translates roughly into something like, "No! Smell, shoo!") I'm telling you, this stuff if phenomenal! It's the Addi Turbos of toilet treatment. One drop and everything's coming up roses.
Now that this post has
really
gone down the tubes, let's Nonshu a little, shall we?
Wednesday is
Holiday Countdown KAL
day, so I started working on a little something for The Mercenary. Sure, I considered making her a toilet paper cozy, but decided against it since TP doesn't get much of a chance to sit idly about in her bathroom. It's all business, all the time at her place. So I went instead with a little number you've probably seen all over the blogosphere, the infamous
Lelah.
A while back, I showed her a bunch of tops I was interested in making, and she mentioned how much she liked Lelah, so I'm hoping she'll get a kick out of it.
I've had some issues with lace before
, but it looks like we may have a future together, after all. It was pretty fun knitting up that fishtail lace pattern, and this Wool of the Andes in Cranberry is not half-bad, either.
Warning:
you
engineer types with math-inclinations
and/or
OCD
compulsions
may want to skip over this part where I explain my fancy-schmancy math calculations. Be it known that I'm not responsible for any ensuing coronaries.
The catch is that since this is a surprise, I couldn't exactly go and measure The Mercenary. So I'm going by kinesthetic memory, aka winging it. Which is kinda bad when this top is sorta fitted. My precise measurements have The Mercenary pegged at about-my-size but-a little-smaller. According to my calculations, I'm a small, so she's a smaller. From there, I painstakingly extrapolated (aka randomly decided) to knit a size 34" bust with size 7 and 9 needles instead of 9 and 10's to achieve something between 29-32". Why? Because I felt like it. Did I swatch? Yes, but there exists little purpose for gauge when you don't know what measurements you're shooting for in the first place. I also added an extra pattern repeat, because my sis is not the belly-baring type. Being cold makes you go more, don't you know. In the final analysis, it's a little tight for me, which was exactly my intention, so my precise plan of keeping nothing constant and varying all the variables just to freak out my inner scientist seems to be working.
I'm crossing my fingers that Lelah that fits The Mercenary. I'm soliciting all the advice I can get on this. Especially for those of you who've knit Lelah, is there anything specific I should be wary of or anything I ought to know about the fit? Ah well, even if it doesn't work out, like everything else in life, there's always a lesson learned. Like learning that artsy-fartsy sisters, while not cost-effective at fine dining, are simply extraordinary at buffets. The unspoken benefits of having dual loading and unloading capacity!
********************************************************************
Bossy has made it exceedingly clear to me that he is not pleased with his prolonged blog hiatus. "Why am I not on the bits of knits?" he demanded, arms crossed and scowl in place. Okay, Bossy, this one's for you. From our weekend holiday adventures,
here's Bossy incognito on the swings with his fab new Thomas sunglasses and Stinky practicing her best orangutan smooch with her baby. Finally, we've been trying unsuccessfully to get that dreaded perfect holiday photo. I wish there were some Cute on Command button I could press. I think we got off easy last year, with only 22 shots before arriving at a decent one. We're up to 59 this year and still no dice. Of my faves, there's Bossy strangling Stinky in front of the mall display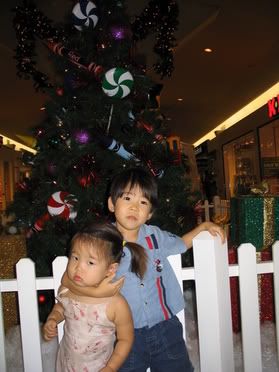 and this one,
which could almost be a real contender, save for the phantom limbs in the foreground. Looks like this is going to take us a couple more tries...thank goodness for Costco and expedited shipping!